See on Scoop.it – Overcoming Multiple Sclerosis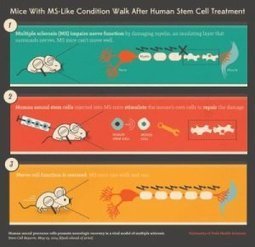 Mice severely disabled by a condition similar to multiple sclerosis (MS) were able to walk less than two weeks following treatment with human neural stem cells. The finding uncovers potential new avenues for treating MS. When scientists transplanted human stem cells into MS mice, they predicted the cells would be rejected, much like rejection of an organ transplant. Expecting no benefit to the mice, they were surprised when the experiment yielded spectacular results.
The Asha Foundation 4 MS's insight:
Animal models do not always translate to human outcomes, but if this does, we are on the precipice of seeing some major advances in the treatment of #MS!
See on www.sciencedaily.com